2010 Château Angélus Château Angélus, St. Émilion Grand Cru, Bordeaux, France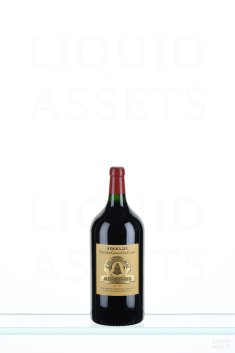 In Bond case price:
£2,000.00
| | |
| --- | --- |
| Country | France |
| Region | Bordeaux |
| Appellation | St. Émilion Grand Cru |
| Producer | Château Angélus |
| Vintage | 2010 |
| Type | Red (Dry) |
| Grape Variety | Red Bordeaux Blend |
| ABV | 15.5% |
| Format | 1x300cl |
| Packaging | Original Wood Case |
| Duty Status | In Bond |
| Provenance | Purchased by Liquid Assets from a UK-based merchant; securely stored in a climate-controlled bonded facility |
| Stock | 2 cases (in stock and available immediately) |
99+ Robert Parker, The Wine Advocate (August 2015)
This is another magnificent wine. How much fun will it be to have the 2000, 2005, 2009 and 2010 in future tastings to see which vintage comes out on top? They are all candidates that will flirt with perfection, depending on the state of their evolution.
The 2010 has a similar color to the 2009, but is perhaps even more opaque, which seems almost impossible. Subtle barbecue smoke, graphite, blackberry liqueur, licorice and chocolate jump from the glass, and the wine hits the palate with a thunderous cascade of sweet, velvety, full-bodied, concentrated black fruits, nice definition from the tannins and decent acidity. The wine has a majestic, multilayered finish that goes on for a minute. This magnificent wine is still frightfully young and still somewhat unformed, but every bit as prodigious as its older sibling, the 2009. This will probably end up evolving on a slightly slower evolutionary track. However, it has 50 years of longevity in it.
95 Stephen Tanzer, Vinous (July 2013)
Good deep, bright ruby-red. Extravagantly rich aromas of black raspberry, blueberry, bitter chocolate and coconutty oak. Like liquid silk in the mouth, but with outstanding verve to the huge, palate-saturating flavors of blueberry, violet, espresso and minerals.
This is almost too much of a good thing today in a Napa cult wine way, but the wine's molten, slowly building tannins and outstanding finishing power promise a long and glorious evolution in bottle.
Vintage
Format
Packaging
Stock
Price
Status
2012
6x75cl
2 cases

£1,800.00

In Bond
View
2012
1x300cl
1 case

£2,400.00

In Bond
View
2012
1x600cl
1 case

£4,800.00

In Bond
View
2009
6x75cl
1 case

£1,800.00

In Bond
View
2009
1x300cl
4 cases

£2,000.00

In Bond
View
1990
1x300cl
1 case

£2,700.00

In Bond
View